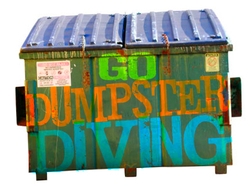 Fundraise and Donate Here!
http://www.firstgiving.com/idso/dumpster-dive-dickeys-barbecue
Take the "DIVE" for Special Olympics Idaho! The Dumpster Dive is an unique opportunity for individuals, organizations and businesses to support Special Olympics Idaho Athletes by gathering pledges and plunging into a clean dumpster full of chilly water.
When: June 3, 2017
Where: Dickey's Barbecue- 6708 Noth Glenwood Street, Garden City, ID 83714
11AM - Dumpster Dive Registration
12PM- Dumpster Dive Starts
1PM- Rib Eating Contest - *Top 5 Fundraisers for the Dumpster Dive will automatically be entered into the Rib Eating Contest
11AM-1PM - 103.5 KISS FM will be live with tickets to Boise Music Festival
11AM-9PM- Full Rack of Ribs for $15.99 - while supplies last, at this location only and for 6/3 only. Show this poster or mention SOID to get offer.
Why: Not only does the Dumpster Dive benefit Special Olympics athletes throughout the state of Idaho, but it also provides great incentives!
Dumpster Dive Prizes:
Raise $50 = Beach Towel
Raise $250 =Beanie
Raise $500 = Fleece Blanket
Raise $1,000 = Soft Cooler
Not up for the Dive? You can still participate by registering as a "Chicken Diver"! A Chicken Diver still raises money for Special Olympics Idaho, but does not need to jump in the icy cold water. Chicken Diver are also eligible for prizes! What are you waiting for?
CONTACT Shannon Reece shannon@idso.org